Let Me Ascertain You: Hate, Actually
Monday, April 10 at 9:30pm @ Joe's Pub
In a world that seems drunk with indignation, where significant differences are tearing at the very fabric of society, we question an idea inimical to our current times: maybe it is not love that makes the world go 'round but Hate, Actually.
Investigating everything from mild indignations to our deepest detestations, Hate, Actually is an interview-based cabaret curated by Civilians R&D Group members Jessie Dean, Kareem Fahmy and Anthony Weigh.
Save the Date for the Civilians' Spring Benefit!
Monday, May 22nd at City Winery
Mark your calendars for an incredible evening featuring this year's Civilian of the Year Awards and special performances celebrating the 2016/17 season.
Support the work of the Civilians
Support the work of the Civilians by making a contribution HERE!
There's a lot of uncertainty in the world right now. The Civilians' mission is to connect theater and society by taking on the most challenging, insurmountable questions of our day. We actively seek out and share diverse perspectives and ask the difficult questions – and we have no plans to slow down or stop. We ask you to support our outward facing mission, to go far & wide to gather untold stories. Now, more than ever, is the time for those stories to be told and the work to be bold.
The Undertaking premieres at BAM Next Wave and Théâtre de la Ville in Paris, France
The Undertaking, written and directed by Steve Cosson, is a playful and profound 21st-century take on the classic trip to the underworld. This new work premiered from September 21-25, 2016 at the BAM Next Wave Festival before making its European debut at the Théâtre de la Ville in Paris, France as part of the Brooklyn-Paris Exchange.
CLICK HERE to learn more.
2016-17 R&D Group announced!
The 2016-17 R&D Group will meet biweekly for nine months to develop projects through interviewing, researching, community engagement, and other experimental methods of inquiry. The year culminates in the FINDINGS series in May 2018, where the artists will share these new works in development.
CLICK HERE to learn more.
New on Extended Play
Composers Michael Friedman and Adam Cork Discuss the Verbatim Film Musical "London Road"
BY MICHAEL FRIEDMAN SEPTEMBER 15, 2016
In part to of our "London Road" series, composer Michael Friedman interviews Tony-winner Adam Cork about his score for the verbatim film musical, which he wrote with Alecky Blythe and stars Tom Hardy.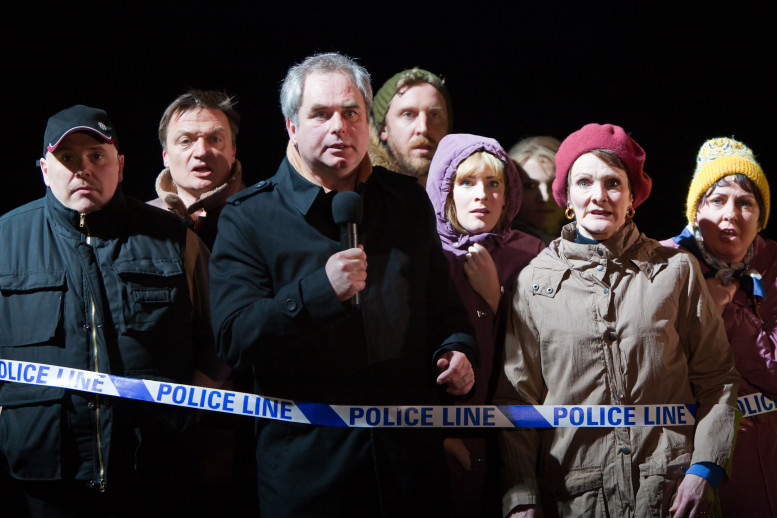 Let Me Ascertain You:
The Podcast Series
Let Me Ascertain You: The Podcast is an audio podcast series of performances crafted from interviews with real people about current and controversial topics, including Occupy Wall Street, Atlantic Yards, the adult entertainment industry, Evangelical Christianity, and more. The series includes songs and scenes from past plays and current projects, plus sneak peaks at works in development.
Subscribe on iTunes by clicking HERE